Pressure sensor chips based on MEMS technology was designed successfully by Hi-tech Park R&D Center and the Centre for Research and Training in
Integrated Circuit
design (the National University of Ho Chi Minh City) on April 28.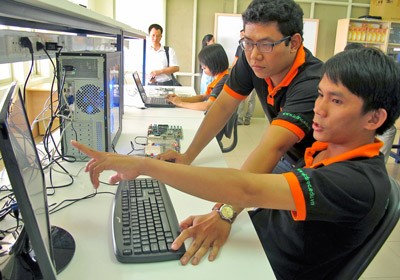 (Photo:SGGP)
This technology contributes to the further advancement in pressure measurements.
Team leader of research pressure sensor chips of R&D Center Truong Huu Ly said that pressure sensor chips are suitable for highly precise measurements in life, industry and health.
In the medicine industry, pressure sensor chips will be applied to sphygmomanometer. Beside that, these chips will also be used for water level measurements such as washing machines, dishwashing machines, sinks.
This chip works as a machine controls pressure of gas.
In addition, pressure sensor chips can also be used in irrigational work to prevent flooding, said Ly.