Deputy Chairman of Ho Chi Minh City People's Committee Tat Thanh Cang on Sunday said that the city had the fastest economic growth rate and largest budget revenue in Vietnam but there had been no specific mechanisms for the city to develop science and technology and other fields also.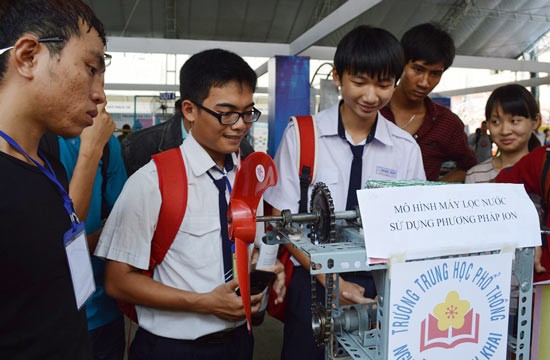 Young people at a science and technology expo in HCMC in May (Photo: SGGP)
He was speaking at a meeting with the Central Surveillance Program Steering Committee led by chairman of the Vietnam Fatherland Front Central Committee (VFF) Nguyen Thien Nhan to the city on the implementation of the resolution No.6 on science and technology and the law on science and technology.
Policies applied to HCMC are similar to other localities causing the city lose many opportunities to develop science and technology, he added.

In addition, the city has a large number of production businesses but been able to encourage them to spend only VND400 billion (US$17.81 million) for establishment of science and technology development funds.
HCMC would give priority to mobilization of this great resource for science and technology development in coming years.
Director of the Department of Science and Technology Nguyen Viet Dung reported that the city has paid special attention to science and technology field for years. Its policy is to boost economic development towards creating hi-tech industrial and agricultural products, which do not pollute the environment or use a lot of workers but still create high added value.
In 2011-2015, the city budget has spent on science and technology accounted for 2.06 percent of its total expenditure, most on Saigon Hi-Tech Park, Agricultural Hi-Tech Park, Hi-Tech Medical Complex and Quang Trung Software Park.
Many new modals have been implemented such as robot program, hi-tech firm nursery and science and technology development fund. Especially, the demand stimulation program has financed business technology innovation with over 209 projects having been approved.
In 2011-2014, the added value growth rate of science and technology took the lead in nine service fields, holding 5.5 percent of the city's Gross Domestic Product (GDP). This has increased HCMC's total factor productivity to 32.8 percent GDP, 1.89 times higher than the rate in 2006-2010.
However, Mr. Dung said that there some limitations hindering the field' development such as low state and social investment, low effectiveness of studies, and inconsistent policies failing to catch up with requirements from market mechanism.
VFF Chairman Nguyen Thien Nhan appreciated initial results obtained by the city in science and technology development, which have accorded with the country's economic development direction.
In following years, he urged HCMC to focus on study innovation, financial mechanism reform for science and technology investment, intellectual property to scientific products, policies to those working in this field and local potential ignition.

Related article:
Volatile policies hamper SHP development