Ho Chi Minh City is set to hold a conference themed "Ready for a New Era" over December 4-6 to review failures and achievements in implementing municipal e-governance.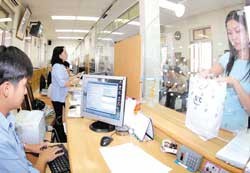 Applying IT to processing paperwork in district 1
In Viet Nam's e-governance vanguard, HCMC now has 22 of 24 districts applying IT in processing most forms, resulting in faster and more accurate results, said HCMC Department of Posts and Telecommunication (DoPaT) Director Le Manh Ha.
The remaining two districts are to apply the technology by next month, he said.
Ha told Sai Gon Giai Phong 34 municipal departments and agencies are already equipped to extend their IT capabilities, with around 40 software applications in place to monitor and process housing, land and construction paperwork.
Nineteen districts are already successfully providing information on business registration applications by Internet. Citizens can now track their applications by calling number 1900545444 to receive automated answers.
This is a first in Viet Nam, Ha noted.
Districts Phu Nhuan, 5, 11, Chu Chi, Go Vap and 9 have all entered and integrated over 170,600 files pertaining to real estate ownership, accounting for 90 percent of those scheduled.
The DoPaT is in the process of linking up all state agencies at all levels into a single network.
But Ha admitted the biggest challenge is a lack of a uniform strategy on e-governance nationwide. Though the country has a master plan for electronic government by 2010, the city has yet to receive specific official guidance from Government on the matter.
Human resource shortages are another impediment. There are now few IT officers at each district and they are poorly paid. There are no official IT titles, forcing them to work under others. And many have not been tenured.
Meanwhile, Prime Minister Nguyen Tan Dung yesterday issued a national directive to enhance information exchange through IT and the nation's e-government systems.