An IT for school program, named "Moving Forward with IT" which operated by the Lawrence S. Ting Memorial Fund and the Phu My Hung Corporation, has made a significant impact on the IT awareness of the pupils in southern Viet Nam, a recent report affirmed.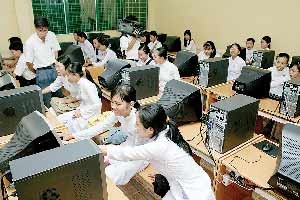 Pupils of Hoang Dieu High School in a new LAB

The report was the summary of the operators' survey in late September.

According to Principal Le Thanh Liem of the Phan Ngoc Hien High School in the southern-most province of Ca Mau, his pupils have acquired IT knowledge easier and faster. Moreover this high school turned its lab into a multifunctional classroom, teaching IT, searching for information and creating lesson plans.

Consequently, our students have improved their knowledge and achieved awards in competitions, such as the Outstanding Provincial Pupils 2006-2007 and the Ca Mau Provincial Non-IT Youth Contest, he added.

Hoang Dieu High School Principal Nguyen Huu Menh of the southern province of Soc Trang also lauded the program for it having changed the academic attitude of his pupils from passive to more active. Most of the pupils have gradually learnt greater self-awareness and initiative, searching for information for their studies and taking free exams on the Internet.

Most have recognized the important role of IT not only in their studies but their future, he said. IT opens a virtual environment for the pupils who want to share their experiences and learn from each other.

Families of the pupils can also visit official school websites and monitor their children's results every semester, helping the school improve their relationships families, he added.

At Doan Ket High School in the southern province of Dong Nai staff succeeded in using "virtual" multimedia lessons to lessen the stress of lessons.

According to principal Tran Thi An, besides using projectors during the lessons, her staff spend most of their time searching for useful plans to enrich their lessons.

The "Moving Forward with IT" Program has been in operation since early July with a total budget of VND20 billion (US$1.25 million) for providing IT facilities to 64 high schools nationwide.