The Ho Chi Minh City Department of Science and Technology has been awarded the certificate on Vietnamese standards ISO 9001:2000 by the Viet Nam Certification Services QUACERT for its new, modern and scientific working style according to the international standard quality management system.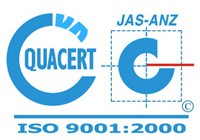 Certification stamp of ISO 9001:200 standards.
The Department has implemented five processes on the most fundamental public administrative services: management of programs, topics and projects on scientific researches and technological development; awarding scientific research grants; issuing licenses of using X-ray in health treatment; holding seminars; training on intelligent property and lawsuit management in relation to science and technology fields.  
The Department has also established eleven processes to support activities to enhance the whole department's innovative ability. They are procedures of knowledge improvement and training in the country, exams of personnel classification scale enhancement, public servant employment, evaluation and choosing equipment suppliers.