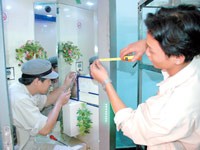 Constructing automatic toilet room using Petech technology
The Ho Chi Minh City Service of Science and Technology held a debate about reforms on investment policies for science and technology activities on March 16, 2006. Reporter of Sai Gon Giai Phong Newspaper has interviewed Dr. Dao Van Luong, Director of the Science and Technology Service, for more information.

Reporter: The draft regulation paying the scientists a fixed grant for scientific research is very impressive. So what will the regulation support scientists in their researches?
Dr Dao Van Luong: According to this regulation, the scientist will take more initiative in their researches. They will not have to make a list of their research procedure in details like how many research's stages, which materials they will use or what they spent the money on.

The amount of grant appraised by the scientific board will be paid for scientists. So they can proactively spend that grant for their researches.

For example, they can separate their scientific project into many parts and hire some groups of scientists for each part with the grant. In case the projects were checked and accepted and can put into practice, the board will not re-check the receipts and expenses arisen in the research process.
Reporter: Who will propose those science projects? And who will pay for them?
Dr Dao Van Luong: Probably Ho Chi Minh City (HCMC) Committee of the Party, HCMC People's Committee, departments, services and businesses will place orders for those projects of their particular area of interest. The government will invest 100% for interdisciplinary science projects and basic science researches as well.

For those projects interested by many businesses, the government will pay 80% of the grant and the remainder will be paid by businesses. In the cases of projects which would only benefit a few businesses, they will have to foot the bill.

HCMC Service of Science and Technology's role is to link customers to scientists and research institutes, also to group scientists for large projects.
After having orders, we, the scientific board, will check the practicability and then send to the scientist. If that scientist (or a group) can demonstrate his or their ability to produce results, we will sign a contract and pay the grant in stages.

In case there are too many scientists or groups wanting to the same project, bidding will be used to decide the selection outcome.
Reporter: According to the draft, the Service will sign a detailed contract with scientists. Would you please elaborate ?
Dr Dao Van Luong: In addition to give the scientists a free hand on their researches, we must have the solutions to ensure the security of grants. So the scientists will have to sign a contract with us when receiving projects. On the other hand, there is a new mechanism for the critics.

They will also have to sign a contract. They will be paid from 3% to 4% of the science project's grant for appraising that project at the beginning. The critics will have to take responsibility for their work.
Reporter: Will this regulation good for scientific researches?
Dr Dao Van Luong: We have studied this for many years. We believe that the new regulation will make better conditions for scientific researches.

In the process of doing research, sometimes we do not know which materials are needed, which kind of experiment we have to conduct in the last stage...


Dr. Pham Van Bien, Director of the Southern Agricultural Science and Technology Institute

I'm so glad that HCMC has had the fixed grant mechanism. I think the government should apply it as soon as possible with a detailed guideline.

With the old mechanism, scientists have to spend 80% of their time to make sure that their researches can be checked and accepted, they only have 20% left to do research.