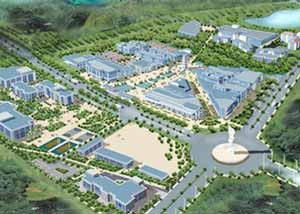 An artist's impression of Hoa Lac High Tech Park
Some US$400 million will be spent on projects related to science and technology in Hoa Lac High Tech Park in the northern province of Ha Tay, the Viet Nam Institute for Sciences and Technology said.
The institute has signed an agreement with the park to finance construction. Laboratories for astronautics, biology, energy regeneration, and electromechanics will be built on 30 hectares of land in the park at a cost of $300 million. The project is scheduled for completion by 2020.
In addition, the institute will use US$100 million to build a university for science and technology on a 65-hectare plot of land in the park.