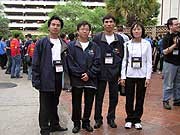 Pham Huu Ngon (second, left) and his team mates.
Pham Huu Ngon is one of the three Vietnamese students having attended the final round of the 30th ACM (Association for Computing Machinery) International Collegiate Programming contest (ACM/ICPC) in San Antonio, Texas, the USA. Following is his impression and feeling after returning to Viet Nam.
Reporter: Could you tell me about the ACM/ICPC contest?
Pham Huu Ngon: Competitors had half a day for checking the computer, operation system (OS) and programming languages before taking the test.
After looking at other competitors, we realized that only the Vietnamese team was using Pascal while all others were using C++/Java, running on the open source Eclipse platform.
The organizers had invited the 1982 champions over for a talk. Three of four members of the team today are PhDs; and the last one owns a big enterprise.
Reporter: Were you ever nervous when attending the contest?
Pham Huu Ngon: Yes, I was a little nervous when competing with others coming from hi-tech countries for the first time. Though well prepared for the test, I was still taken by surprise.  
Reporter: What were you surprised at?
Pham Huu Ngon: Other competitors were specializing in specific area. Their countries' technological standards are higher than ours, so they have better conditions to develop.
Our reference materials were from developed countries, so it left a big gap between us and our competitors. The contest arrangement was orderly, cozy and friendly.
After the opening ceremony, a representative from sponsor IBM delivered a speech about the role of Innovation in companies' survival. He also covered current "hot" technologies, such as Open Source, Nano technology, calculation of acceleration output and Web 2.0.
Reporter: After visiting such a highly IT developed country for the first time, how do your feel?
Pham Huu Ngon: I was really shocked. I felt like a rustic coming to a city for the first time. I wondered when our country can have the same achievements.
After using their sophisticated technologies, studying their methods, watching their models, I realized that our technologies are out-of-date. They have a good IT infrastructure and many advanced conditions to stimulate development of staffs' innovation.
Moreover, with a good IT infrastructure, they can have many contracts to produce millions of chips. If they find out how to reduce US$0.1 each chip only, the profit will amount to hundreds of thousands of US dollars.
Meanwhile, Viet Nam cannot have those big contracts because of its low level of IT infrastructure.
Reporter: So what are your ideas?
Pham Huu Ngon: I have already known my position in IT world and defined my target. Earlier I worked without any directions, making software programs, designing webs, studying many IT subjects, but now I will try to specialize in one area. Therefore I can have my own "technological weapon".
Reporter: What is "technological weapon"?
Pham Huu Ngon: Talking about Microsoft, we talk about Windows OS. Similarly, Google now means "xsearching engines". Those are "technological weapons". From now on, I need to focus on one IT subject to find out my "technological weapon".
Reporter: You used to say that "I want Viet Nam to be on the global IT map". What have you done so far to make it come true?
Pham Huu Ngon: I said that two years ago. At that time I was too young so I thought it would be easy to make it come true. Now I think that we need long-term strategies, requiring contributions of many people. However I believe it will come true in the near future.
Reporter: How did you enter the Silicon Valley?
Pham Huu Ngon: Introduced by a friend, I traveled over 5,000 kilometers from Boston to San Jose City, California, capital of the Silicon Valley with many headquarters of big IT companies, like Cisco, Intel, Yahoo, Google.
I also had a chance to enter a big chip manufacturing company. Wearing an equipment engineer uniform, I saw many machines worth millions of USD, lying side-by-side. They were used to check the chips in harsh conditions, before they go into mass production.
Related article:
Viet Nam Team Won Third Prize In International Programming Contest
        
Pham Huu Ngon, student of talented Engineer class of the Ho Chi Minh City University of Polytechnic, won prize of the Imagine Cup 2004 in Brazil launched by Microsoft, third prize of the Asia Pacific ACM/ICPC 2005 contest, "Golden Globe" IT prize of the Central of Communist Youth Union in 2005, "Creative Youth" badge of the Central Committee of Communist Youth Union in 2005, and third prize of the "Vietland's Talent" in 2005.