IBM inaugurated a Global Service Delivery Center, its first in Viet Nam, in the National University of Ho Chi Minh City's Software Technology Park on Monday.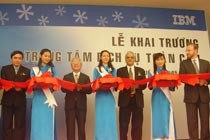 IBM and HCMC leaders cut the ribbon to inaugurate the Global Service Delivery Center in Ho Chi Minh City on Feb 5 (Photo: VnExpress)

The center in Thu Duc District will provide e-commerce services and manage the supply and distribution of IT services for IBM's customers in Viet Nam.

It is expected to help Viet Nam develop its IT infrastructure and domestic human resources.

IBM's fourth Global Service Delivery Center in Asia-Pacific (the Philippines, India and China housing the first three) brings the number of such centers in the world to 30.

Mr. Kulkarni, director of the new facility, said IBM had chosen Viet Nam because of the skilled and low-cost manpower, the Vietnamese government's strong interest in IT development, and the good command of foreign languages found among Vietnamese workers.

The center plans to recruit between 3,000 and 5,000 Vietnamese experts in the near future.