IBM plans to expand operation in Viet Nam and Asia, the group's vice president Steve Mills told IT students at Viet Nam's first seminar on Career Education in IBM Software (CEIS) yesterday.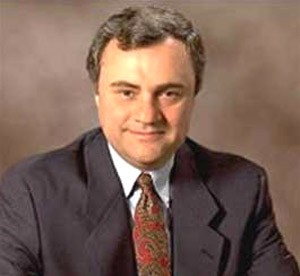 IBM vice president Steve Mills
During the seminar organized by Ha Noi University of Technologies and DTT-Ha Noi CTT Company, Mr. Steve Mills said IBM is in need of 30,000 skilled engineers and programmers for its worldwide expansion.
He added that he expected to welcome more Vietnamese students to work for his group.
In order to have an enormous IT human resource soon, IBM will choose Viet Nam as the first country in Southeast Asia and the second in Asia after India to launch CEIS.
On the occasion, Mr. Mills handed over to DTT-Ha Noi CTT Co. a certificate recognizing it as IBM's first partner in implementing CEIS in Viet Nam.
IBM Viet Nam also signed a Memorandum of Understanding with Ha Noi University of Technologies and DTT-Ha Noi CTT on cooperation in training competent engineers.
Under the MoU, the three sides will cooperate in training lecturers, organizing more courses and recruiting IT students after they graduate.
Learners will follow curricula with international-standard textbooks provided by IBM and receive IBM certificates.
In related news, IBM announced yesterday it will establish a Banking Solution Center in Viet Nam in the year's first quarter in a bid to tap into one of the fastest growing financial markets in the region.
The center will help local banks to apply new technology, upgrade payment systems, and build and deploy core banking systems and new services based on open source technology, the firm said.
Mr. Mills said it would provide such services as business and technology design, vendor and package selection, modeling, proof of concept, benchmark testing and system migration.
The center will be a part of IBM's global banking service system which was established last year with many centers located at IBM laboratories in California, New York and Seoul.
According to Ta Quang Tien, director of the State Bank of Viet Nam's information technology department, the center would help banks increase competitiveness by providing up-to-date banking technology.
In addition to the center, the group said it will set up a project to help Vietnamese banks upgrade and modernize their banking systems.