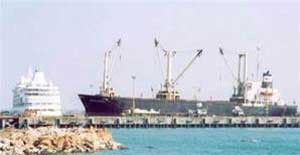 Tien Sa seaport in Da Nang (Photo:www.vpa.org.vn)
On February 15 - 16, 2006, the Vietnam Port Association (VPA) held a second seminar to have a thorough understanding of its European partners' requirements and evaluate the possibility of forming an Information Network of Transportation and Communications Community (INTCC).

Permitted by the Ministry of Transportation and Communications, VPA cooperated with its European partners (Belgium and Ireland) in implementing Viet Nam's INTCC project in 2005, which was financed by the EU.

The project researches on the applicability of some information systems of transportation and communications community, following European partners' models. When finished, it will be applied to the management of import, export and transport services in Viet Nam.
At the seminar, Belgian and Irish experts presented the IT-applied models in use in European seaports exploitation, IT solutions to transportation and communications, and information standardization through maritime electronic information network.