Intel Corp said on Thursday it plans to start shipping new processors for desktop and laptop computers in August, betting the energy-saving chips would help the world's largest semiconductor maker regain share from rival Advanced Micro Devices Inc.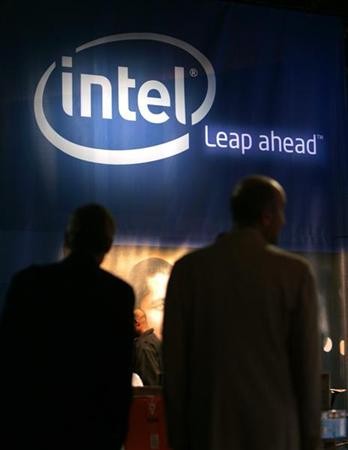 The Intel logo
Intel, which has been losing market share in computer processors to AMD, is introducing a series of new products with all-new designs this year. It says the chips bring better performance and lower power consumption, counting on them to help halt several quarters of falling sales and profits.
Even though AMD, once relegated to mimicking Intel's advances, had emerged as a nimble and innovative competitor with powerful and energy-efficient chips many say are superior to Intel's offerings, analysts now say Intel will likely regain the technology crown with the new processors.
Tsuyoshi Abe, Intel's sales and marketing general manager, expects a tough fight ahead, but he was confident of winning with the new Core 2 Duo processor series which is planned to be used for over 550 desktop and laptop computers from makers including Dell Fujitsu and Lenovo
"The competition in the market will continue to heat up as every maker tries hard to improve its products, but I believe our new processors can help us beat our competitors," he told a news conference.
Kazumasa Yoshida, co-president of Intel's Japan unit, said the company also hoped its energy-efficient chips would boost the overall industry.
"Our business is slowing down in the second half, and we believe the most important task for us now is to lead the market with products like these," he said.
Intel will start shipping a total of 10 new processors for desktop computers in early August and for laptops at the end of August. Intel has priced the desktop processors from 21,230 yen (US$182.5) to 115,900 yen (US$996.3) in 1,000-unit quantities.
The pricing for the laptop processors will be announced in late August, the company said.
(Source: Reuters)