Intel will cut its workers more than 10.000. Following the cuts, Intel will employ about 92.000 people by the middle of 2007, down from 102.500 at the end of the second quarter of this year, the company said.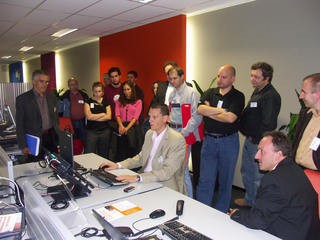 Intel digital office
The layoffs are the latest attempt by the Silicon Valley bellwether to stave off the challenge of smaller rival Advanced Micro Devices, whose share of the market for chips that power PCs grew to 22 per cent at the end of the second quarter, up from 16 per cent a year earlier.

The layoffs include some 1.000 management cuts announced in July and the selling of two telecommunications divisions that will pare a further 2.000 jobs.

Intel expects to pay out close to US$200 million in severance pay.
Computer-chip giant Intel is to cut its workforce by 10.500 in a bid to trim costs by some US$3 billion annually, the company official said.

"These actions, while difficult, are essential to Intel becoming a more agile and efficient company, not just for this year or the next, but for years to come," chief executive Paul Otellini said in a statement.
(Source: BKP)