In Ho Chi Minh City, the city's Post and Telematics Department and The International Data Group (IDG) in Viet Nam held a signing ceremony to carry out two sides' cooperation in Information Technology (IT) - Communications and Investment.
The Post and Telematics Department cooperates with IDG to advertise and call for investment in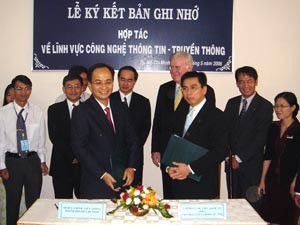 At the signing ceremony between IDG and Post and Telematics Department
the city's IT and Communications, do research, predict development condition, analyze market for planning as well as provide enterprises with assistance in management skill enhancement, product marketing and market expanding.
The Us-based IDG has invested and worked in IT field in Viet Nam for 14 years.
On the same day, the IDG Venture Investment Fund announced that it will invest in the Mobile Solution Service Joint Stock Company.
It will invest about USD 2-3 million for one investment round. The company will provide added value services and advanced technology in mobile phone.