Lac Viet Computing Corporation will open a building at 23 Nguyen Thi Huynh, Phu Nhuan District. The company is setting up a huge online database for entertainment and education at the address: www.vietgle.vn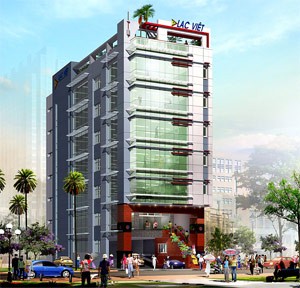 Lac Viet Smart Building
The building has nine floors and a floor space of 4,000 square meters. It was designed by Lac Viet in according to the principles of the Intelligent Building Management Systems (IBMS).
IBMS offers central user management and allows a user to stay in one place while controlling the facilities of the whole building, including electricity, water, air-conditioner, security and networking. Moreover, the building is equipped with structured wiring to enable all its facilities to operate automatically.
A "smart" building can save a lot of energy in air-conditioning as it automatically adjust the temperature of the building whenever the outside temperature changes, Lac Viet noted
The building automatically controls security, fire prevention and fighting, elevator operation, and supervision of guest activities. It uses fingerprints to automatically make up time sheets for employees.
The building is expected to save about 15-30 percent on power costs, increase the labor productivity by 2-5 percent. IBMS will lessen pollution and providing good care to employees' health.
The site www.vietgle.vn opened on July 8, said Mr. Ha Than, Lac Viet's general manager. This site includes a huge database for entertainment and educational use, said Mr. Than. Users can log in and find information related to education, entertainment, sightseeing and Vietnamese culture.
Users can access the first version of this Web site free of charge, Mr. Than noted. They will not only be able to get basic information about travel, culture, language or natural environment, but will also be able to access a huge dictionary for free. The dictionary can define Vietnamese, English, French, and Chinese words in Vietnamese. In addition, Vietnamese words can be translated into the other languages.
The site will also include an engine that can translate paragraphs from English, French, Chinese and Japanese into Vietnamese, added Mr Than.
The database has a map portal which allows users to find directions for their ride or find a location on a map. It will guide users who want plan their vacations or who want to find entertainment areas, shopping malls, cash machines or bus stops.