After the circular concerning the management of online games was issued by the Ministry of Post and Telecommunications in June, an account is allowed to accumulate points in only five playing hours a day. Consequently, online game providers claim that they will face difficulties in carrying out the regulation. Anyhow, they have to execute this decision as this is an initial step in the law enforcement process in Viet Nam, director of the Ho Chi Minh City Department of Post and Telecommunications Le Manh Ha affirmed.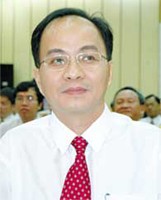 Director of the HCMC Department of Post and Telecommunications Le Manh Ha
According to the online game providers, it is not easy to carry out the circular on limiting game players' playing time at such short notice.
Before the circular was issued, the Ministry of Post and Telecommunications had asked the online game providers for their opinions but they did not reply.
If they had paid attention to the fact that many parents are worried about their children spending too much time on playing online games and neglecting their study, they would have thoroughly understood how necessary these regulations are. Law observation by business remains poor, not keeping pace with the authorities' requirements.
In addition, when the State concerned agencies did their duty, some enterprises expressed their displeasure, resorting to public disagreement. However, the infringed enterprises will lose their prestige, the most important thing. And it is hard for business to build trust in their partners, Mr. Ha said.
On the other hand, it can be said that certain officials of State administering agencies are not well qualified and need to be retrained so that they can keep pace with new requirements of the country's global integration, said Mr. Ha.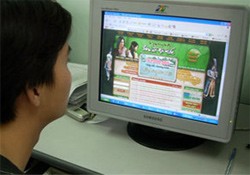 Students spend too much time on playing online games and neglect their study. (Photo:KK)
According to him, there are now several agencies which do not made effort to do their jobs. They always submit the problems to the municipal People's Committee, base on its ideas and the collective ideas to ward off responsibility.  Thus, to create a strong apparatus of government, every department has to do all their duty strictly.

Some officials have not clearly understood the law yet. It makes bad influences in the law-abiding societies such as Viet Nam.