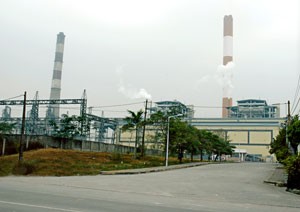 Pha Lai 2 Thermal Power Station in northern province of Hai Duong. 80% of country energy is from fossil fuels.
Eighty percent of Vietnam's energy needs is met by imported fossil fuels, Dang Vu Minh, head of the National Assembly's Committee for Science, Technology and Environment, said at a conference held on August 26 to discuss laws for energy saving and effective use.
Committee members said the energy demand for manufacturing, construction, and transportation is rather high.
It is estimated that Vietnam uses 1.5-1.7 times more fuel than other countries to produce a product.