A wide range of issues concerning nuclear energy and its effects on humans and the environment will be discussed at a seminar entitled "Nuclear Science and Society" held on June 25 in Ha Noi.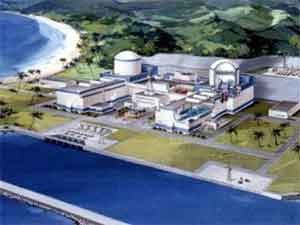 An artist's impression of the first nuclear power plant in Viet Nam which will be built in the Phuoc Dinh Commune, Ninh Thuan Province
Professor Phillippe Quentin of the University of Bordeaux 1 and the Centre National de la Recherche Scientifique (National Center for Scientific Research) will gave a speech at the seminar whose content will be translated simultaneously into Vietnamese.

Nuclear power has long been a tempting source of energy to humans. Its use was at first limited to military purposes, but later it was put to civilian uses. It has helped bring about a new era of civilization, science and technology.

Nuclear power is at the center of many heated debates throughout the world because of its ability to meet humanity's increasing demand for energy as well as because of fear concerning its possible effect on the environment.

Society is not only influenced by nuclear power production, but it is also greatly affected by how far nuclear physics can go.

In fact, technology, industry, and a large amount of scientific research is making use of nuclear science to give birth to useful inventions and materials, as well as to help modern science take a step forward to improve humanity's living conditions.

The seminar will begin at 6 p.m. at the L'Espace - French Cultural Center on 24 Trang Tien Street in Ha Noi.