Increasing demand for broadband and 24h Internet access has seen ADSL subscription in Ho Chi Minh City surging everyday. So has temperature gauged from rival ADSL Service Providers battling out for business and market share in the lucrative market of Ho Chi Minh City.
Ho Chi Minh City's Competitive ADSL Market: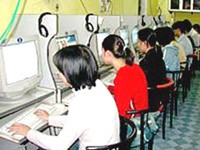 Internet shops in HCM City are always busy (Photo: T.C.)
Traditionally, Internet access has been provided through normal dial-up connection using telephone line. With the increasing demand of customers for speedy and continuous Internet access, the Asymmetrical Digital Subscriber Line (ADSL) technology was invented, which provides 8Mbps downstream speed, 140 times higher than Dial-Up.

In addition, modem's price, installation cost and monthly usage charge continue their downward spiral (modem's price is down from US$120 – 150 to US$38- 50). The result has been a surging demand for ADSL services.
There are only three major ADSL Service Providers in Ho Chi Minh City today, including Netsoft, FPT and Viettel, but the market is very competitive. While the registration charge of Netsoft for a new subscriber is VND750,000, and VND375,000 for replacing Netsoft Dial-up service with ADSL, Viettel has lately announced "registering ADSL service with only VND385,000", and the registration fee is VND250,000 for Viettel Dial-up subscribers.

Not to be outdone in the competition, FPT launched MegaStyle service raising their customer number by the most economic rate: the registration fee is VND500,000, the monthly line rental fee is VND20,000/ month and the additional usage is VND50/Mb.
Moreover, there are many ADSL packages with various monthly line rentals and transfer rates to suit various types of customers: individuals, household consumers, Internet shops or companies.

For example, Netsoft has launched four packages: MegaEasy, MegaFamily (both for individuals and household consumers), MegaExtra, MegaMaxi (for Internet shops or companies); three of Viettel: Home N, Home E, Home; and seven of FPT: MegaStyle, MegaPLAY, MegaHOME, MegaCAFE (for individuals and household consumers), MegaNET, MegaOFFICE, MegaBIZ (for Internet shops or companies).
"Which ISP will you choose?"
Like in the cell phone market, customers' primary consideration is focused on pricing, quality of service and after-sale services will be of the second priority. Therefore ISPs in Ho Chi Minh City are also striving for competitive edge in these two areas.
For example, by using VNPT's (Viet Nam Posts and Telecommunications Corporation) infrastructure, network and quality of Netsoft's ADSL service is more widespread and stable than the others.
On the other hand, Viettel focuses on customer care activities like sending their agents to customers' house to collect fees. In addition, FPT is the most well-known ADSL Service Provider with easy registration, quick installation (customers can use ADSL in between four and fourteen days after signing contract) and many attractive promotion programs.
Moreover, the Saigontourist Cable TV Company (MediaNet) is providing "2 in 1" service: Internet access via Cable TV cable network. It is the only one company offering Broadband Internet Access through Multimedia Network in Ho Chi Minh City.

Theoretically, the technology provides 56 Mbps/30 Mbps transfer rate (download/ upload), 5-10 times faster than ADSL; but the MediaNet's practical highest transfer rate is 4Mbps/ 640Kbps.
Founded in early of 2006, MediaNet hopes to become the biggest ISP by its aggressive launch of a competitive promotion program: free installation, a saving of VND300,000; free modem worth VND375,000 (customers pays security and returns after 12 months using the service) and discount cable TV registration fee for MediaNet's subscribers. However, customers have to subscribe to use the SCTV cable TV service if they want to have access to the MediaNet's Internet service.