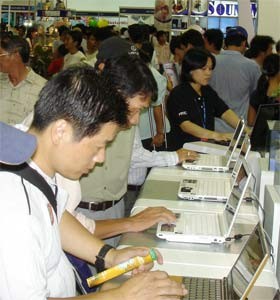 Engaging in exploring hi-tech products: Laptops stood out at a PC exhibition attracting dozens of visitors. (Photo: Hoang Uy)
Nine domestic computer assemblers will unite to establish a corporation named Lien Viet Thanh to produce laptops. The first laptop model of this corporation, Vopen, is scheduled to join the local market in January 2007, Pham Thien Nghe, head of the Viet Nam Electric Industries Association said.
Mr. Nghe added that the unity will enable those firms to cut down their products' prices and improve the output, tempting more customers.
At present, local computer makers are holding 90 percent of the market share of laptops and about 10-percent market share of desktops.