The Hanoi-based software developer Bkis this year is preparing for the debut of a high-advanced technology named "SmartHome", which is expected to enable users to control their house remotely.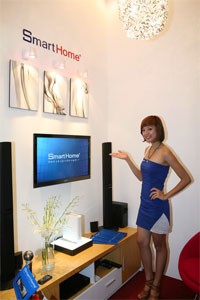 Demo of Bkav's SmartHome at Socio-economic Achievement Exhibition of Vietnam – October 2010 (Photo:bkis.com)
The idea has come to Bkis' general director Nguyen Tu Quang since he was getting to know that the US's billionaire Bill Gates owned a modern villa, which can automatically control multimedia equipments and lights.
The Smart Home Company, a subsidiary of Bikis, has been founded since 2004 to make that idea come true.
In 2009, it introduced some high-tech electrical home appliances, including smart light switchers, hand dryers and taps.
Smart Home focused on finalizing the core of the SmartHome technology during the period between 2008 and 2010, developing controlling software and designing sensor systems, smart lights and alarm systems.
The SmartHome comprises of latest data transmission technologies including Powerline Communication and the wireless technique Zigbee. They will offer users many themes for their house.
With SmartHome, users can either set time to turn off lights or control the fish tank, television and gas via their mobile phone.