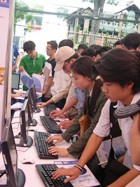 Many young people attend the "IT Job's Day 2006" to search for IT jobs.
More than 2,000 young people attended "IT Job's Day 2006" held by Aptech Viet Nam on May 20. A number of famous Vietnamese and international software companies, including FPT, Global Cybersoft, ICHI Corporation, took part in the fair.
"Today demand of big companies for software engineers is very high. Most of the software companies joining in the fair may have already got orders from USA, Euro and Japan, that they need to employ those who are good at foreign languages" said Mr. Nguyen Nhat Tan, Marketing Manager of the FPT Aptech.
At the fair, Viet Nam ICHI Corporation needed 40 programmers who have good command of Japanese to work in Japan. Those who are weak at Japanese but satisfying the company's requirements will be trained on Japanese language skills for free.
Viet Nam PSV offered young people a special training opportunity to become an application tester. They will practise in real projects and if they meet the requirements, they can become a member of the PSV's staff.
In addition PSV Viet Nam will employ tens of people for many positions, such as telecommunication programmer, business analysts, programming engineer, etc. Mr. Tran Bang Viet, Project Manager of the TMA solution advised young people: "Programmers are always under pressure, usually working until late. So if you want to be a computer programmer, you have to know how to balance your life".
The FPT Corporation also announced at the fair that they will recruit more than 10,000 staff till 2008. At the same time, Mr. Le Hoang Hung, Deputy Manager of Global Cybersoft said "Our company has just signed contracts in Euro to conduct many long-term projects, so we will need more than 100 IT engineers this year. The recruitment will be continuous so applicants' skills, like management, organization, and foreign languages, should be well prepared".