Metropolitan Area Network (MAN) is expected to be launched in Ho Chi Minh City in mid of 2006.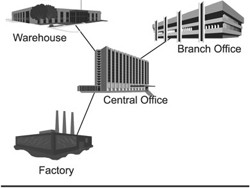 Metropolitan Area Network (Photo: www.transition.com)
It is a backbone line using wireless infrastructure or optical fiber connections to allow sharing of regional resources (similar to a large Local Area Network - LAN) including multimedia services of television conference, TV-on-demand, Internet Protocol telephone, etc.
The MAN project has been under way with the total investment of over VND70 billion since 2003, and it is coming to the last stage, according to Dr. Vu Thanh Nguyen of Management Office of Information Technology Projects under the Department of Posts and Telematics (DPT).
The MAN Administrative Center will be located in the DPT. Once MAN is up and running, it is expected to link authorities of 24 districts, wards and 20 departments, services with the Ho Chi Minh City People's Committee.
In addition, with MAN, Ho Chi Minh City's authorities can also remotely manage, or take part in meetings of the People's Committee or Departments using video conference technology even if they are not in the city.