The U.S. software Microsoft Corporation and FPT Corporation signed a three-year strategic alliance agreement yesterday to tie the two sides' relations and supply highly qualified solutions to Vietnamese and Southeast Asian IT enterprises.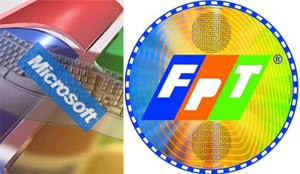 FPT Corp. is Mircrosoft's first strategic alliance in Southeast Asia
At the ceremony of signing Microsoft's first alliance agreement in the Southeast Asia, chief research and strategy officer of Microsoft Craig Mundie said, "We cooperate with FPT in new technology not only to help FPT develop but also to bring Microsoft's new technology and products to Vietnamese customers."
 
He added Microsoft will help FPT launch new technology in regional countries and also educate Vietnamese students to become qualified information technology experts.
 
"We are very happy as we have our first strategic alliance not only in Viet Nam but also the whole region," said Mr. Mundie.
 
Besides the allied cooperation with FPT, Microsoft also wants to cooperate with the Vietnamese government and enterprises to expand the use of its products in Viet Nam's economic development.
 
Mr. Mundie said the Vietnamese government should have appropriate and strong policies and actions, especially about copyright and intellectual property, to boost the country's IT sector.