Mr. Christopher Desriac, General Director of Microsoft Vietnam, speaks at the launching ceremony.(Photo:TK)
Microsoft officially launched an exhibition of its latest office software today in Ho Chi Minh City, following a similar showcase in the capital city of Ha Noi last week.
Microsoft's new products, comprising Windows Vista, Microsoft Office 2007 and Microsoft Exchange Server 2007 have been introduced to Vietnamese users via a video conference at Nguyen Du Sport Complex Sport.
According to Microsoft experts, the advances of Windows Vista help users be more confident thanks to the safer, more reliable, and more responsive operating system. This allows users to remove clutters while improving their organization and connecting with others easily and securely by improving network security and with easier integration.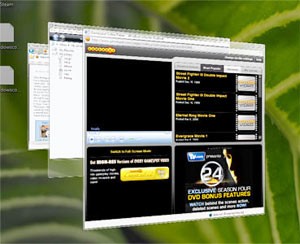 Microsoft Windows Vista's interface is much easier to use.(Photo:TK)
Remarkably, some of the features of Windows Vista and Office 2007 include innovations in interface design that transform the desktop and make these two products visually stunning and much easier to use. Among the most significant advances in these new editions are the enhanced security and family safety features which will help parents enable their kids to explore the internet safely.
In addition, the Microsoft Office System 2007 makes it easier and more enjoyable for people to get things done at home With a new streamlined user interface that exposes commonly used and familiar commands, enhanced graphics and formatting capabilities, new communications and information management tools and more reliability and security.
A number of retail Vista editions for Vietnamese individual users are offered: Home Basic at US$123 (upgrade license) and US$238 (full license); Home Premium at US$190 (upgrade) and US$282 (full). For business users, there are Business edition at US$236 (upgrade) and US$351 (full); and Ultimate at US$309 (upgrade) and US$470 (full).
Viet Nam – great IT development potential for the future: Bill Gates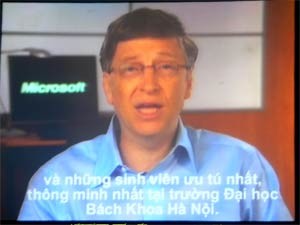 Bill Gates highly values Viet Nam's IT potential in his video message to the ceremony.(Photo:TK)
In a video message, Bill Gates, the founder and chairman of Microsoft Corporation, said his visit to Viet Nam last April has left in him a big impression of the country's development, of a country that is developing strongly in the Southeast Asia region, with 82 million people and great IT development potential for the future.
He also said the Microsoft staff are still working to produce a Vietnamese version for users in the country to void font issues.
According to Mr. Christopher Desriac, General Director of Microsoft Vietnam, the potential of the Vietnamese IT market is very great, the goal that Microsoft set when it began operations in Viet Nam is "narrowing the digital gap, bringing IT to everybody" and in the past ten years it has exerted efforts to achieve this goal. This year, Microsoft introduces its products at an official launching ceremony, themed "Microsoft to Viet Nam with L.O.V.E" (L.O.V.E stands for Launch of Office, Vista & Exchange.)