Minister of Science and Technology Nguyen Quan yesterday affirmed that the Government would continue tightening management on imports of secondary machines through Circular 20 which businesses have raised objections against.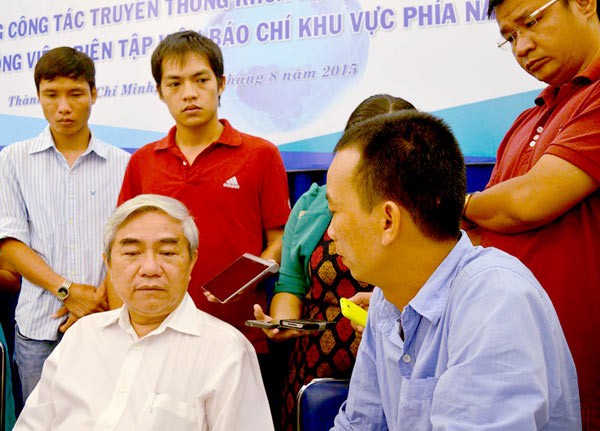 Minister of Science and Technology Nguyen Quan (L) talks to reporters in HCMC on August 25 (Photo: SGGP)
The circular was released last year to limit extensive imports of handed-down machinery, equipment and production lines to prevent Vietnam from becoming an industrial waste dump, he said at a seminar with the press on changes of the circular.
 
After releasing the circular, the ministry had kept receiving feedbacks from businesses to balance their benefits and the Government's production modernization purpose.
 
At present, it has been revised and solved issues that businesses have lamented about.
 
The first change is that secondary machine age has been extended to 10 years instead of five years.
 
Secondly, the machine quality assessment will not only base on use time but also Vietnamese technical standards in production. If the country has not had standards for a certain kind of machine, then businesses will follow norms set by G7 nations whose products have showed high quality, long life-span, fuel saving and little environmental pollution.
 
Thirdly, customs clearance procedures have been simplified for firms. In case they have yet to provide papers proving machine age as well as production standards, they will be permitted to take machines and preserve in their stores.
 
Moreover, the regulation on testing of machines' remaining quality has been abolished.
 
Answering the query that whether the circular will raise difficulties for local businesses because most of them are of medium and small scales, Mr. Quan told that firms must aware of risks when Vietnam successfully signs free trade agreement including Trans-Pacific Partnership and VN-EU FTA.
 
The agreement will abolish and cut most import tariff lines permitting foreign commodities to flow into Vietnamese market. If local producers continue using too old machines and lines, their goods' competitiveness will reduce because of less quality and higher cost prices compared to import items.
In global integration, businesses will hurt themselves if not improving their machinery and technologies, which would be costly at first but create better quality goods to improve their competitiveness in return, he added.