Deputy minister of Science and Technology Tran Van Tung affirmed that the ministry would facilitate overseas Vietnamese's participation in scientific research, technology development and renovation to solve the country's specific problems in 2017 and following years in HCMC yesterday.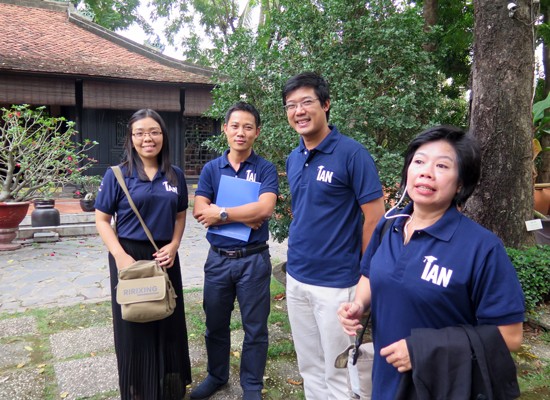 Overseas Vietnamese and abroad Vietnamese students at the meeting in HCMC on February 9th (Photo: SGGP)
He was speaking at an early spring meeting themed "Connection and Renovation Vietnam -2017" attracting many overseas Vietnamese intellectuals and those who used to study abroad. The event was hosted by the ministry in coordination with the Ministry of Foreign Affairs, the Vietnam Union of Science and Technology Associations and the Association for liaison overseas Vietnamese.
Mr. Tung emphasized the role of overseas Vietnamese experts and intellectuals considering them to be one of key science and technology human resources of the country.
In 2017 and following years, the ministry will work with the Foreign Affairs Ministry and other relevant agencies to well implement polices attracting and connecting overseas Vietnamese intellectuals and experts in solving the country's issues, affirmed him.
Last year, the ministry connected with 540 good foreign experts comprising 250 overseas Vietnamese who are working at and cooperating with institutions, universities and businesses across the country under World Bank financed project Fostering Innovation through Research, Science and Technology (FIRST).
In addition, the ministry has approved a project building a Vietnamese experts network in the world to lure and efficiently use brainpower for the country's development.
Overseas Vietnamese intellectuals informed of their initial encouraging results in startup in Vietnam last year at the meeting. Among them is Mr. Nguyen Trong Nhan from France, director of FABLAD Saigon and Da Nang systems. A Fablab is a small-scale workshop offering (personal) digital fabrication. It is a creative and social place to empower a local community to test and innovate.
Oversea Vietnamese in the US Nguyen Vinh has implemented VietExd project under MOOC, a massive open online course, to train high quality human resource and Phuc Huynh has set up Teach for Vietnam, a not for profit organization teaching English at universities in Vietnam. Former abroad student Truong Bao Tran introduced sustainable development projects for the community.
Dr. Le Duc Hung from HCMC Science University has worked on low power IC design and technology and application project. Dr . Nguyen Ngoc Trung from Hanoi Technology University introduced a FIRST financed project to develop semiconductor device fabrication process, applied for high power and high frequency electronic devices.