Major mobile network operators in Vietnam have prepared technical solutions, staff and equipment to ensure smooth communication during the Lunar New Year holiday, especially 3G (third-generation network) services.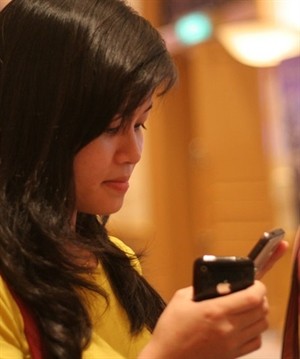 Viet Nam's major mobile service providers have prepared solutions and staff to ensure smooth communications during the Lunar New Year holiday. (Photo: VNA)
Statistics from the information and communications ministry (MIC) showed that the country has about 130 million mobile phone subscribers and 28 million 3G network subscribers, mostly in large cities.
Pham Hong Hai, head of the ministry's department of telecommunications, said that the network congestion during the festival was due to a surge of telecom services and messages.
Telecom service providers should take preventive measures to avoid congestion, Hai pointed out.
Doan Xuan Hop, deputy head of VinaPhone's sales office, said that congestion was always a problem and mobile network operators had given due attention to it during holidays, especially Tet.
In 2014, VinaPhone developed its network and network optimisation to ensure quality services. The service provider upgraded 2G and 3G stations nationwide, especially in locations that have several festivals in provinces and cities, to ensure that 3G communications are as smooth and fast as 2G services.
Additionally, VinaPhone has also prepared 24x7 human resources, equipment and mobile BTSs (base transmission stations) to solve problems in transmission and meet the demand for mobile phone services since October 2014, he said.
Before Tet this year, VinaPhone increased the capacity of its network by setting up more mobile switching centres (MSC), signalling systems and BTSs, he added.
VinaPhone has 24 MSCs, 33,000 BTSs and short message service (SMS) centres that can handle a maximum of 42 million SMSs per hour.
Hop said that VinaPhone's 3G service had operated at 70 percent of its capacity, and so the network could meet a sudden increase in demand during the Tet festival.
Meanwhile, MobiFone had also completed the upgrading of its mobile phone network and services.
According to MobiFone's statistics, in recent years, users have not used text and voice services much, and have started using 3G services to send images and greetings, share videos and watch television programmes on mobile devices.
Therefore, MobiFone has increased the number of 3G BTSs, upgraded existing 3G BTSs and has 10 more mobile BTSs for festivals and days when fireworks are used. It has also increased its SMS service capacity for customers who still use older services.
Last year, MobiFone increased by 40 percent its 3G BTS systems network nationwide, including a 35 percent increase in the north, 10 percent in the northeastern region, 45 percent in the central region and 25 percent in HCM City, as well as 46 percent in the southern provinces and 67 percent in the southwestern region.
Dinh Viet Hung, head of MobiFone's marketing and tariffs department, said that the firm could handle the demand of 40 million subscribers using call services and 15 million subscribers using data services, while the server system can handle 40 million SMSs per hour and also the increase in SMS traffic during Tet.
Hoang Son, deputy general director of Viettel, said the group had focused on preparing technical infrastructure for the holiday. They had upgraded software and base transmission stations (BTS) in locations where more crowds are expected.
In addition, Viettel had upgraded its network to handle 300 million phone calls per hour, 2.4 times higher than the expected demand on New Year Eve.
Viettel had prepared 80 mobile transmission cars to avoid congestion in areas where festivals and major events are expected to be held and where there are buildings with a large number of people.
Son added that they have strengthened investment to improve the 3G service quality since the fourth quarter of 2014.
It has installed 3,000 more BTSs, bringing the total to 30,000 nationwide.
It has also upgraded about 1,000 2G network BTSs to ensure services for users in border gates and islands during the major festival.
However, experts have said it will be difficult to avoid congestion in 3G services during the festival in places where there will be thousands of people at a time.