Motorola, Inc. has deployed its first WiMAX trial network for Vietnam Datacommunications Company (VDC), a leading Internet service provider in the country.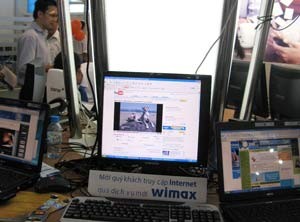 WiMAX is introduced at a recent information technology exhibition in Hanoi
A Motorola announcement late last week said the network allows VDC to test next-generation wireless broadband services in major cities of Vietnam. Motorola added it is deploying commercial and trial networks for WiMAX 802.16e technology worldwide.
Last year, Motorola and VDC signed an agreement to commence a technical and commercial WiMAX trial in Hanoi and Ho Chi Minh City. Under the agreement, Motorola will install WiMAX Diversity Access Points and more than 100 points in the two cities.

"The WiMAX trial further strengthens our relationship with VDC and offers more choices of broadband access to its subscribers," Ray Owen, head of Technology for Asia and general director of Motorola Vietnam, said in the announcement.
WiMAX 802.16e technology enables VDC to reach a wider subscriber base in a timely and cost-effective manner. The network allows more people access to faster Internet connections and other advanced telecom services.
"Vietnam Datacommunications Company gains competitive advantages by being a pioneer in trialing and launching new WiMAX services, which will allow us to capture market opportunities in the next generation wireless broadband space," said Mr. Vu Hoang Lien, CEO of VDC.