The Central Highlands Biological Institute has successfully grown Bunashimeji, a kind of reishi mushroom, in a trial project, it was recently announced.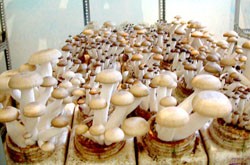 The bunashmeji mushroom
The project is aimed at contributing to improving reishi mushroom farming by using domestic technology from Da Lat City, Lam Dong Province, to farms in Di Linh, Duc Trong and Lam Ha districts.
Bunashimeji is currently imported from Japan and China and sold at large supermarkets in Ho Chi Minh City at VND100,000 to 200,000 a kilogram.
The mushroom is originally from Japan and is about 10cm long. The mushroom is popular around the world for its delicious taste.