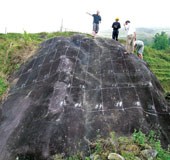 Historian Phillipe Le Failler (on top) and his Vietnamese assistants are studying the patterns on a rock.
A French historian Phillipe Le Failler of the Ecole Française d'Extrême-Orient (EFEO) and his Vietnamese assistants are decoding the mystery of Sapa's Ancient Rock Formation.
There is a famous ancient rock formation on an 8 square kilometer area in Muong Hoa valley. Archaeologists are studying the special patterns carved on the rocks.
Mr. Phillipe Le Failler, a top expert of EFEO and his Vietnamese assistants are recording the patterns on the rocks using specific tools including a locator, rough paper, ink and bananas.
In order to have an exact imprint, the group had to study the ancient Vietnamese's imprinting methods using bananas as an adhesive to print the patterns onto rough paper, said Phillipe.
The rock named HT4 or Father Rock as well, is one of the last ones imprinted by Phillipe. After seven hard-working months, the group imprinted nearly 200 rocks, making 3,000 copies of patterns.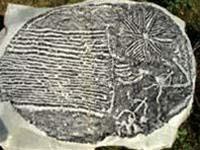 This is one of the special patterns printed onto rough paper.
Those imprints and information about location of each ancient rock will be entered into a computer. Then scientists will calculate the quantity and number the patterns repeated themselves to decode them.
The mystery of those patterns has been researched by scientists in the past. In 1925, Professor Victor Goloubev delivered a thesis explaining the patterns. They are beautiful, peculiar and in the forms of stairs, human, roads, writing and other mysterious patterns.
However the ancient rock formation is at risk of being damaged. Some patterns are faded by the weather, other are deformed by the new ones.
Other rock formations recently found in Lao Cai Province and Ha Giang have mysterious patterns and arrangement. Phillipe Le Failler also plans to collect imprints of all those formations to complete his research on the subject
Using computers, Phillipe believes the mysterious patterns engraved in the rocks will be decoded in the near future.