A national management computeriziation project started in 2001 and was planned for completion in 2005 with the aim of building an e-government in Viet Nam. The project has failed for many different reasons.
Among the project's six major objectives, the two more notable are building data processing centers and developing software programs for common use.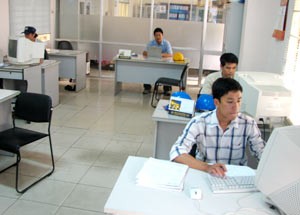 Local officials work with computers in Ho Chi Minh City (Photo:TC)
According to the plan, in 2002 and 2003, cities and provinces must build the centers to connect with local-level management computerizing units, and must finish provincial socio-economic data centers by the end of 2003.
Then, huge sums from the State budget were pumped to cities and provinces for the establishment of the centers. However, till now, local-level units have not collected enough data for the centers to process.
Under the circumstance, the project's management allocated three software programs for common use to cities and provinces in February 2005. The software programs are for a socio-economic information system, a computerized system for paper works, and a province-level website for management.
But cities and provinces lack skilled officials to use the software effectively, not to mention weaknesses of the software programs. By late 2005, about 40 cities and provinces had installed the software programs, costing over VND180 billion, but half of the localities reported their use efficiency at 34%-36%.
In Ho Chi Minh City, before the software programs were put into use, some government agencies and districts had used more than different 20 software programs. The Ho Chi Minh City Department of Posts and Telematics reported to the Ministry of Posts and Telematics that the new software programs were costly and not as effective as the previously-used ones, which included a software program funded by the United Nations Development Program.
Another problem is that the project's management did not organize training courses for the executing staff nationwide until 2005, the project's final year. Many of the trainees said the project's three software programs are so complicated that many IT workers at the executing units cannot master and control the systems. When troubles happen, they have had to engage experts to solve.
Another improper thing is that almost all workers in the national project, from the central to local levels, take it as their additional duty.