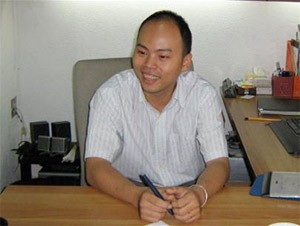 Nguyen Tin Lang
If you need professional advice about construction or interior decoration, then
www.dulieukts.com
might be just the ticket.
With an eye-catching layout, the new website showcases interior decorations and building products designed by 108 architects from 34 firms and made by 102 manufacturers.
One of the best features is that you can chat online with an architect, builder or interior decorator to get some help if you're a do-it-yourself kind of person. If not, then you can hire an expert through the website.
The webmaster is 28-year-old Nguyen Tin Lang, a man with a long-cherished desire to create the first online building and design service in Viet Nam.
After graduating from the University of Architecture, Lang took an IT course in America. He came back to Viet Nam to work as a brand manager for a big firm, but eventually quit so that he could devote more time to his website.
"It's not that being a wage-earner is bad per se, but then I really didn't entertain the idea of becoming a boss either. It's just that the idea of setting up the website has appealed to me for ages, and now is a suitable time to actually do it," he said by way of explanation.
Lang's website is written in ten languages: Vietnamese, English, Chinese, Japanese, Korean, German, French, Italian, Spanish and Portuguese.