Imaging one day your television broke down suddenly while you are watching an exciting live football match. An ADSL Internet service subscriber will have no trouble switching to IPTV.

Paid television will develop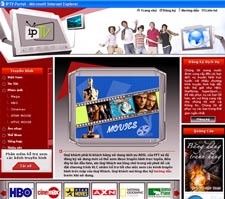 Internet TV provided by FPT Telecom
The demand of local and international TV channels has increased in recent years. In addition to free analog televisions such as VTV (Viet Nam Television Station), HTV (Ho Chi Minh City Television Station), BTV (Binh Duong Television Station), there are Digital Satellite Televisions of VTC, and SCTV (Saigontourist cable television Company, in cooperation with VTV) and HCTV (Ho Chi Minh City cable television station).
Pay television will be more widespread due to its better quality. "In spite of the monthly charge, I prefer cable TV as there are more channels. Besides, unlike normal television, cable TV quality is not affected by the weather," said Ha Ngoc Thien, officer of the 5th District Tax Bureau.

According to a tally, there are 250,000 household consumers using SCTV and HCTV in Ho Chi Minh City, and it is anticipated that this number can increase to one million in 2006.
Following the global trend of multimedia convergence, Ha Noi and Ho Chi Minh City cable television providers are working with the telecommunications service providers to offer broadband Internet services via cable TV, like Ha Noi cable television with New Generation Telecommunication Company or SCTV with EVN Telecom Company.
Online television

With the development of broadband network, a new business field is born: Internet television. In 2004, website:
With Internet television, a computer turns out to be a TV.
www.vntelevision.net of the VASC Software and Media Company constructed by the Viet Nam Data Communication Company started to provide online television in Viet Nam.
The Vietnamnet TV Center, a subsidiary of VASC, provides customers with entertainment and news programs from VTV around the clock. It is working effectively as a Vietnamese TV channel for overseas Vietnamese.

In addition, overseas Vietnamese can also go to www.htv.com.vn to watch HTV7 and HTVC channels or www.vtv.vn to access VTV4 channel for the latest updates from their homeland.

Recently, FPT Telecom has launched the IPTV (Internet Protocol Television) on website http://tv.fpt.vn. The service provides customers with Internet access, Internet phone call (VoIP), Video-on-demand and TV-on-Demand services. "With 6 Mbps/ channel transfer rate, IPTV offers full-screen and DVD quality picture. It is different from Vietnamnet TV, VTV and HTV, which display on a narrow screen." said Mr Hoang Anh Dung, Manager of Broadband Internet Service of FPT Telecom.
Especially, subscribers do not have to pay extra charge for the Internet television usage. FPT in cooperation with HTV on March 14, 2006 will experimentally telecast 32 channels at website: http://tv.fpt.vn.

Therefore, customers can enjoy 32 local and international channels of HTV without their TV. In addition, FPT will lend the Set-top-box to customer to watch these channels on television. However, only FPT's subscribers can register this service.

Related articles: