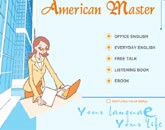 Opening screen of the American Master 1.0
American Master 1.0 is a learning English software program made by the Viet Sun Co., Ltd and the PVC Trading Co., Ltd. It is designed to be a teacher, and able to explain about native culture.
American Master 1.0 gives users flexible listening options: to an individual speaker, to a sentence and as much as they want to, just at a click of the mouse and there's a voice in high quality sound, speaking with standard American accent.
The program provides users with conversations, newscasts from CNN and VOA, also improving their speaking, enriching their knowledge. In addition business analysis, social communication, and etiquette, which are used in every sentence in the program, will effectively correct users' grammar.   
Especially American Master 1.0 is burned onto a CD with copyright protection technology developed by Viet Sun Co., Ltd.
PVC Trading Co., Ltd (B1-06, S14&20 Plot, My Thai Zone, Tan Phu Ward, District 7, Ho Chi Minh City) is the exclusive distributor nationwide.