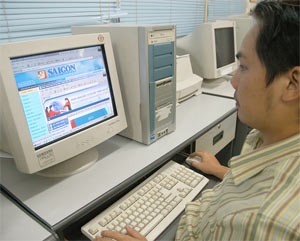 A web surfer views advertisements online.
With increasing internet use alongside consistent IT development, online advertising is on the rise in Viet Nam. Though currently a newborn and fledgling market, its potential is enormous.  
Viet Nam's Fledgling Online Market
Thousands of websites are born and 15 billion visitors access the internet every day. Worldwide online advertisement grew by 25 percent in 2005 and is expected to continue rising sharply in the future. It is high-time Viet Nam jumped on the bandwagon.
Google and Yahoo are online advertising's two biggest earners. Google's net profit rose to US$369 million in the first quarter of this year with revenues surging to US$1.3 billion, a 93 percent year-on-year increase. 
Yahoo's net profit doubled to US$205 million in the first quarter this year as the company grossed US$1.2 billion in sales.
In line with the trend, online advertisement in Viet Nam is growing rapidly. Local enterprises now put their banners and logos on most popular websites and use low-cost e-mail advertising.
The online advertisement revenue in Viet Nam is estimated to reach US$4 million this year, a US$2.1 million year-on-year increase.
Professional Advertising
VietNamNet surprised observers when it asked a professional advertising company to act as its exclusive advertisement agent.
As one of the highest ranking e-newspaper in Viet Nam, VietNamNet earns a lot of easy money from advertising and many assumed it could continue its self advertising campaign without outside help. But big ad firms offer service benefits.
"By asking the Online Advertising Joint-Stock Company (OAC) to act as an exclusive advertisement agent, VietNamNet will save on personnel and cost, so we will be able to improve the website's quality," said Editor-in-Chief and Chairman of VietNamNet Nguyen Anh Tuan. 
He continued: "Some said that this is a risky decision, but the OAC now possesses the most popular websites in Viet Nam, www.24h.com.vn and www.xem.com.vn,"
"We cooperated with VietNamNet as it is the top Vietnamese website with strong IT infrastructure. Our new ideas and methods can bring great opportunities to our customers," said Chairman of the OAC Phan Minh Tam.
"As the internet computer market grows rapidly, Viet Nam's online advertising potential is at its first great peak. A country of more than 80 million inhabitants with the GDP (Gross Domestic Product) growing by 7.5 percent annually is a good business environment. Viet Nam is currently a fledgling market for online advertisement, but it has a lot potential," said Ms. Duong Thu Huong, Public Relations & Operations Manager at IDG Ventures Vietnam based in Ho Chi Minh City.