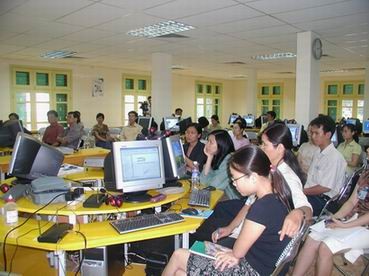 Doing research on PCs at Ha Noi University's library
For the present, businesses are pinning their hope in open-source software to sharply reduce their overhead, boosting much-needed revenues.
"Open-source software offers local enterprises dozens of significant technologies", says Jay Mahalingam, a representative of Intel India.
He gave some examples, such as CRM (Customer Relationship Management), which covers methods and technologies used by companies to manage their relationships with clients, Orange HRM (Human Resource Management), software that addresses theoretical and practical techniques of managing a workforce and OCR (Optical Character Recognition), which can be used to translate images of handwritten or typewritten text (usually captured by a scanner) into machine-editable text.
Some business leaders feel that open-source software is doing a great job of sharply reducing company's overhead.
Le Nguyen Hoang Minh, chief of Sacombank's research and development department, has said that more than 2,000 computers in his bank have been installed with open-source software, "Using open-source software has saved us as much as US$400 per computer".
At a seminar on building IT applications using open-source software, Vu Do Quynh, of Campus numérique francophone in Ha Noi, related his experience of switching from licensed software to open-source. "Since we stopped buying licensed Microsoft Windows and Office software, we have saved more than EUR300,000" he says.
Related article
Is Open Source Software the Best Solution for Local Firms?