The organizers of the Viet Nam Computer Electronics World Expo 2009 and its concurrent conference Viet Nam ICT Outlook have begun promoting the event, which is considered the annual largest ICT event in the country.
It will be held from July 16th to 19th, 2009 at the Saigon Exhibition and Convention Center in Saigon South, Ho Chi Minh City, the organizers (International Data Group Viet Nam, HCM City Computer Association, and Viet Nam Chamber of Commerce and Industry) announced at a press briefing in the city last week.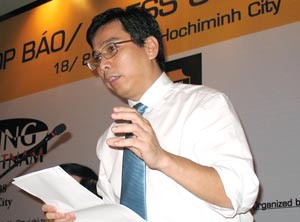 IDG Viet Nam and Indochina managing director Le Thanh Tam makes a point at last week's press briefing in HCMC (Photo: Tuong Thuy)
Until 2008, the venue was the HCMC International Exhibition and Convention Center in Tan Binh District. The location is smaller than the new one.

Because of moving from a venue that has been familiar with visitors in many years to a new place, the organizers need to, as they said, run a comprehensive promotion program to make sure the number of visitors to be not less than 250,000 as in recent years. Therefore, unlike previous years, the promotion program was launched at the press briefing, about one year ahead of the event.
The new venue, located in the center Saigon South, is the largest and most modern exhibition and convention center in southern Viet Nam. The exhibition hall covers 10,000 square meters, enough for 500 standard booths, the conference room has seats for 500 people, and the parking lot is large enough for 500 cars and 1,300 motorbikes.
Next year's exhibition space will be 20% larger than that of the Viet Nam Computer Electronics World Expo 2008, according to the organizers.
"Understanding that the new venue is not much convenient for local people to get there and visit the expo, the organizers will cooperate with transportation firms to provide visitors with ticket-free return buses from two stops at Ben Thanh Market and Tax Shopping Center in District 1," said Mr. Le Thanh Tam, managing director and chief representative of International Data Group Viet Nam and Indochina.
The organizers expect around 300 exhibitors, 250,000 visitors and 1,000 conference attendees will participate in the exhibition and conference.