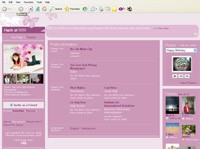 A Vietnamese personal website (Photo: T.C.)
Organizations and individuals can launch their own website but they have to be registered with relevant authorities, according to the draft of the Information Technology Law regulating website launching procedure.
However, representatives of Ho Chi Minh City Police said that the regulation covers so big a field and it should be narrowed down. Because the number of websites will be too large for the government to manage, only websites of organizations and companies should be registered with relevant authorities, while the individuals, and individual websites should be exempted, provided they comply with the Press Law and with the related regulations, they suggested.
For websites without top-level domain name ".vn", registration is not necessary.