The Viet Nam Pesticide Company (VIPESCO) has created pesticides from the seeds of the Neem tree originally from India.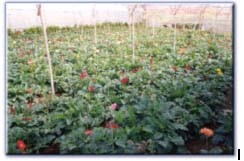 The new pesticide will kill worms that harm vegetables
The new pesticides, 1500 EC and 5,000 EC, can kill various kinds of worms, fungi and pests which harm rice and other crops. More important, they are environmentally friendly.
The company has planted Neem trees in Binh Thuan province, but because of enormous demand, the company plans to import Neem seeds as well.
VIPESCO said that the two pesticides are especially suitable for integrated pest management.
4,100 tons of pesticides have been consumed as of April, reaching 33 percent of 2007's plan, a 28 percent increase over the same period in 2006, according to the company's report.