The PetroVietnam Gas Corporation has put into operation its remote gas management system, also known as Supervisory Control and Data Acquisition (SCADA).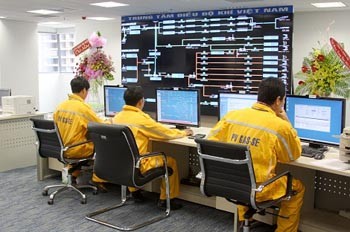 Engineers operate SCADA at Petro Vietnam Gas Corporation
The SCADA system will connect with five oil-rigs and 17 valve and gas distribution stations across the country.
The basic function of SCADA is to collect data, monitor and control the gas transport process in rigs as well as at the valve stations and gas distribution stations in Ho Chi Minh City, Ba Ria-Vung Tau, Dong Nai and Ca Mau Provinces.
The entire production and distribution process of gas will be remotely monitored.