The Ministry of Education and Training, cooperating with the Center of the Ho Chi Minh City Communist Youth League, the Viet Nam Student Association and the Union of Viet Nam Science Associations, awarded the "Students' Science Research 2005" prizes to 478 projects by 961 students of 83 universities. The ministry also awarded the "Vietnamese Creative Technology - VIFOTEC" prizes of the Viet Nam Fund for Technology Creation (VIFOTEC) to 69 projects, including 7 first prizes, 22 second and 40 third.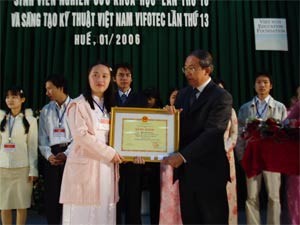 Pham Thuy Chi wins the WIPO prize

Besides, the managing board of the VIFOTEC suggested awarding the WIPO prize of the International Intellect Organization to the "Studying the Temperature of Objects during Baking Process" project by Pham Thuy Chi, a student of the Ha Noi University Transport and Communications. In the award ceremony, the Central Committee of the Communist Youth League gave the creative youth badge to 34 students.