Viet Nam plans to launch its second satellite after the successful launch of Vinasat-1 earlier this year.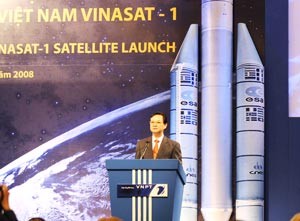 Prime Minister Nguyen Tan Dung addresses the launch ceremony of Vinasat-1 in Ha Noi, May 2008 (Photo: AFP)
The plan was announced at the last working session of the National Steering Committee on Vinasat-1 last week. The committee completed its 13 years of work on the nation's satellite development to hand over rights to use Vinasat-1 to the project investor -- Viet Nam Post and Telecommunications Group (VNPT) -- and the Ministry of Information and Communication.
At the committee's final working session, Deputy Prime Minister Nguyen Thien Nhan, head of the Steering Committee, said the nation had successfully completed the project to launch Vinasat-1 without any troubles.
Nhan agreed to transfer the satellite to the VNPT and the ministry, and asked the ministry to prepare to launch Vinasat-2 in the next two or three years.
Commenting on the commercial business activities of Vinasat-1, Bui Thien Minh, VNPT deputy general director, said VNPT was negotiating with domestic and foreign partners to sign new contracts to supply services to its clients.
VNPT would see a return of its investment in Vinasat-1 and start reaping profits after 10 years of operations he said.
The Government has asked the ministry and VNPT to co-ordinate with the Ministries of National Defense and Public Security to train staff for projects related to the satellite. These projects must be submitted to the Government for approval before September 30.
According to the Ministries of National Defence and Public Security and Viet Nam television, the satellite-use projects will meet their schedules and be completed by 2010.
VNPT has planned to use the satellite to aid services for the trade, banking, transport, education and healthcare sectors.
The Vinasat-1 satellite was launched on April 19, 2008. The satellite has an operational life of almost 26 years.
The 200 million USD Vinasat-1 provides more than 200 digital television channels and tens of thousands of Internet data transmission and telephone channels.
The satellite's footprint is expected to cover Viet Nam, Laos, East Asia, India and Australia.
Two control posts for it have been built in the former northern province of Ha Tay and in the southern province of Binh Duong. The satellite helps extend communications services to rural and remote areas where physical infrastructure on the ground, which requires prohibitively expensive investment, is not adequate.