A protein bait killing fruit flies was officially commercialized at Foster's Tien Giang on May 10, 2006.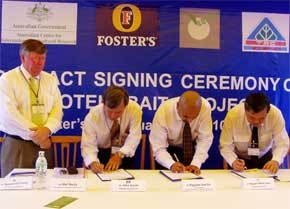 The concerned sides sign the contract to commercialize the protein bait (Photo: Tuong Thuy)

The Australian Consulate General in Ho Chi Minh City, the Australian Center for International Agricultural Research (ACIAR) in Viet Nam, Foster's Viet Nam, Viet Nam's Southern Fruit Research Institute (SOFRI) and the Can Tho Pesticides Company held a ceremony to commercially launch this product, and Can Tho Pesticides Co. officially became the distributor.

Australian and Vietnamese researchers worked with Australia's most famous brewery, Foster's to convert waste from the brewing process in to a protein product, which is then laced with pesticide to kill fruit flies. The bait is manufactured at a plant located in Foster's Tien Giang brewery in the Mekong province of Tien Giang, with pesticide added off site. 
Foster's Viet Nam Managing Director Jake Jacob said at the ceremony, "During the trial launch, the product was well received by the Mekong Delta farmers.  Today, we are very pleased to sign the supply contract with our partners – SOFRI and Can Tho Pesticides Co. – for the contracted volume of 50,000 liters of protein bait a year." 
This protein is then laced with pesticide away from Tien Giang, at Can Tho Pesticides Co. in Can Tho City under the supervision of SOFRI to form this fruit fly bait, he added.
Mr. Mal Skelly, Australian Consul General in Ho Chi Minh City, said, "This project is a good example of the on-going strong cooperation between Australia and Viet Nam. We are very pleased that these efforts will not only help increase farmers' productivity but also benefit Vietnamese people overall through reducing the risk to public health from pesticide spraying."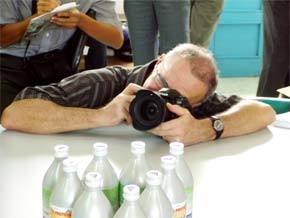 An Australian journalist takes photos of the protein bait (Photo: Tuong Thuy)
Mr. Skelly and representatives of the other sides at the ceremony made a field trip to different orchards in Chau Thanh District, Tien Giang Province to take a look at the effectiveness of this protein bait. An Australian TV crew followed to make a TV documentary, which will be broadcast on Australia's ABC channel, according to Ms. Misha Coleman, ACIAR Country Manager for Viet Nam. 

The TV documentary is designed to make the product known to different concerned agencies and protein bait users both in Viet Nam and Australia.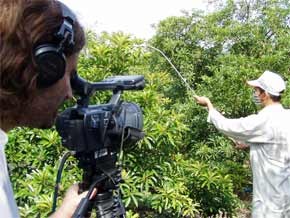 The Australian TV crew makes the documentary in Tien Giang Province (Photo: Tuong Thuy)
The bait has been distributed to some farmers in the Mekong Delta at no cost for two years and was registered under the trade name of SOFRI Protein one year ago.
As fruit flies had harmed many orchards in Viet Nam, the Vietnamese Government in 2001 asked ACIAR to do something about the problem. Then, the protein bait is the result of collaboration between ACIAR, Foster's Viet Nam, researchers from Griffith University in Australia and Vietnamese scientists.
SOFRI researcher Le Quoc Dien said his calculations after show that using this bait in five spraying times on 250 hectares of orchards saves VND300 million (US$18,750, taking VND16,000 for US$1) for the farmers.
Farmers can now save about 95% more of their crop from fruit fly damage by using this protein bait, which means a lot more profit for the farmers and a lot less pollution to the environment, said ACIAR Country Manager Coleman.

Link
Australian Center for International Agricultural Research

Viet Nam's Southern Fruit Research Institute