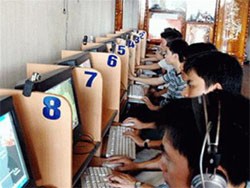 From now on, ISPs have to install a supervision software in public internet services.
A new regulation obligating internet service providers (ISP) to install supervising software in public internet services (PIS) that use their service has been issued by the Ministry of Posts and Telematics (MPT).
The regulation aims to prevent users from accessing unauthorized websites in PIS. After installing the software, web administrators can supervise information about website addresses users visited, their online time, their used services (for example, email, chat, ftp, telnet) within 30 days.
In addition, user's name and ID number, passport or other valid ID, like professional card, driving licence and student card must be recorded when they use internet service. Only the Government's agencies can ask PIS to provide such information.
PISs will regularly be inspected and checked by the appropriate authorities. Currently the Viet Nam Data Company (VDC) and the Viettel Internet Company have installed on trial supervision software in their PISs at some big provinces and cities, said the MPT.
ISPs have proposed the measure of issuing ID code integrated in the software in order to save the recording time of user's information. However, the deadline for ISPs to install the software is by August 1, 2006, according to MPT.