Qualcomm of the US announced the October 26 launch of its Wireless Reach project to establish computer labs at rural Vietnamese schools.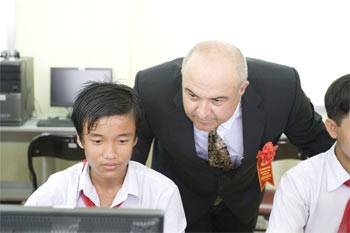 John Stefanac, president of Qualcomm SEA-Pacific, helps students use computers at a school in Can Tho on October 26 at the launch of the wireless reach project (Photo: Courtesy of TQPR)
The wireless labs, each with 20-25 computers, come complete with 3G CDMA broadband Internet connectivity. Each classroom will serve as many as 50 students during a class period with students learning basic computer skills and other subjects including English, math and science. 
"Access to online resources and educational materials can have a life-changing impact on students, said Dr. Paul E. Jacobs, chairman and CEO of Qualcomm.
"Not only will they have connectivity that enables access to learning materials and communities for the first time, but they will also have the opportunity to gain specialized skills and training."  
Six wireless labs have now been established in Can Tho City in the Mekong Delta. 
Through the provisioning of affordable, high-quality and reliable Internet connectivity to schools where landline access is limited or unavailable, the wireless lab project strives to help students bridge the digital divide and addresses the goal of universal access and opportunity in education.