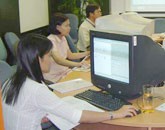 A tester of the Global Cybersoft Company is working on a project.
Currently Quality Control Engineer (QCE) or tester is such a quite popular job in Viet Nam. Standards usually call for one tester for every five programmers, but depending on the scale of the project this ratio can sometimes narrow to one tester to every three programmers.
Quality Control is the most important stage of production, which makes sure the finished products meeting customer's requirements. High quality products help the company gain considerable prestige and the customer's trust.
Therefore, tester is an indispensable position, playing an important part in the success of the project. A tester does not need to be a professional programmer but he or she must have sufficient knowledge of at least one programming language and basic experience of testing software programs.
Furthermore, analyzing, designing, programming skills and knowledge of software's diverse application fields are also required for the position. A tester must have a good command of English for reading and writing professional documents.
A tester is responsible for testing software programs as required by customers, finding bugs, then sending reports to the programming team, while estimating where the bug comes from. In addition, a tester also has to write the testing documents like the testing procedure or the manual for the software programs, said Mr. Tran Nam Dung, Training and Human Resource Department of FSOFT Company. "QCE requires carefulness, diligence and discipline, so it fits female IT graduates. Nearly 90 percent of my company's testers are women," he added.
"Tester is always in demand in my company, but only about 10 percents of applicants meet the requirement, because most new graduates lack experience and information about the job. Finding bugs is harder than making bugs, so a tester needs to have a sharp mind to deal with particular situations. A QCE has to put himself or herself in the shoes of software developers, and end-users," said Mr. Nguyen Duc Hong, Vice General Director, in charge of the Testing Service Department in Global Cybersoft Company.
A tester usually possesses a better general view than a programmer does, and a good tester will have a cushy job with good efficiency.
The assessment of efficiency in the job is based on the number of bugs founded in one hour or one day, important bugs found or 85 percents of bugs founded before and after the installation. Furthermore, a successful software project also reflects the efficiency of a tester.