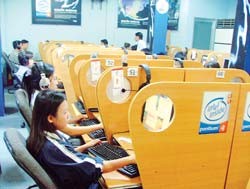 This always crowded online game shop reflects the burgeoning online gaming market. The government hopes the digital content industry will boost its production value to US$400 billion by 2010
Viet Nam's Digital Content Industry (DCI) is expected to reach US$400 million by 2010, according to a conference on DCI development in Viet Nam, held by the Ministry of Posts and Telematics (MPT) and Motorola Corporation in Ha Noi.
DCI works on designing, producing, storing, and releasing digital content products and relevant services, including information inquiry, digital data, digital entertainments, online training, e-studying, digital libraries, and online advertisement.
Identifying DCI a potential industry, the MPT set a target of up to US$400 million revenue by 2010, out of the revenue of the IT sector, estimated to be US$ 1-1.2 billion.