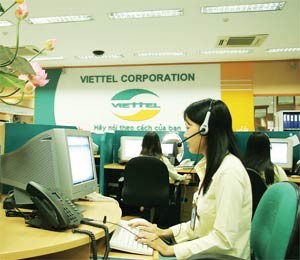 At the Customer Care of Viettel Mobile
The first significant move by Viettel Mobile to establish a name for itself was its pricing policy. Viettel Mobile was the first operator to offer customers "6 second blocks."
This system, which would reduce phone bills by ten to fifteen percent, would time calls in six second increments instead of the industry standard, one minute blocks.
To reinvent their own wheel, while most of the competing mobile communication providers are using "6 second" blocks, Viettel Mobile is offering "6 + 1" second blocks to encourage consumers to sign up.
One of the many promotions used by Viettel persuaded a massive number of users to switch to Viettel. All Viettel had to do was offer one free phone call without time restrictions for all new customers signing up from 20 September to 3 November, 2005.
However, Viettel Mobile found itself in very difficult position as the massive influx of new subscribers overloaded the network. Even more troubling was the simple fact that the problem occurred during their launch of a promotional program. Consumers inevitably had serious doubts in the quality of the operator's mobile phone service.
Seemingly, the amount of Viettel Mobile's base transceiver stations (BTS) simply did not meet the requirements of the mobile phone network.
In turn, the amount of Viettel Mobile subscribers sharply plummeted, threatening its high hopes of being a top mobile phone service provider in Viet Nam.
Viettel Mobile seemed to be on quite the losing streak. On top of it all, its subscribers were unable to contact different networks like VinaPhone and MobiFone, of Vietnam Posts and Telecommunications Corporation (VNPT).
Officials of Viettel Mobile confirmed that this issue was caused by the non-cooperation of VNPT. Ultimately, the Prime Minister had to instruct the Ministry of Posts and Telematics to iron out the conflict.
After the resolution, Viettel Mobile began to recover. The quality of their mobile communications network was improved thanks to the increasing number of base transceiver stations.
After 2 years, with 10 MSC (Mobile Switching Centers), 35 BSC (Base Station Controllers) and 2,500 BTS, Viettel Mobile has become the biggest mobile phone service provider in Viet Nam.
The mobile communications network of Viettel Mobile can satisfy the demand of up to 10 million customers, which is double the amount of current subscribers.
The positive reception in Viet Nam has proven that Viettel Mobile is on its way to great success.
"Viettel Mobile targets customers with top-notch mobile phone service using cutting-edge technologies," said Tong Viet Trung, director of the Viettel Mobile.