The Vietnamese Government has chosen Russia as the foreign partner to provide technology for Vietnam's first nuclear power plant project in Ninh Thuan Province, Dr. Vuong Huu Tan, director of the Vietnam Institute for Nuclear Energy Institute, has said.The decision to go ahead with the project was based on longstanding assessments made by the International Atomic Energy Agency (IAEA) that the Russian nuclear power technology as safe, Mr. Tan explained.
He was speaking Thursday at a bi-annual international nuclear power exhibition in Hanoi on May 27-29.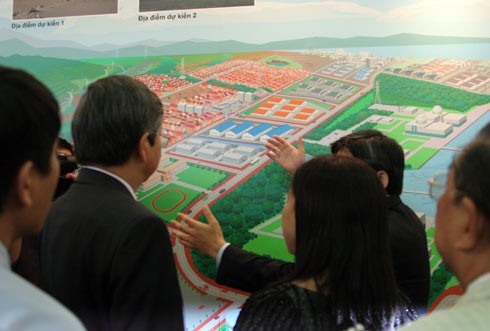 Visitors look at an artist's impression of the nuclear power plant in Ninh Thuan Province, displayed at an exhibition in Hanoi May 27-29 (Photo: VNExpress)
The Russian technology, with a capacity of 2,000 MWh, has been offered at a price of US$8 billion, equivalent to that of other countries' technologies of the same kind, he said.
Besides Ninh Thuan Province, Vietnam will select 8-10 other locations to build more nuclear power plants from now to 2030, he added.
The Government will ask for opinions from the National Assembly about those additional nuclear power projects, Mr. Tan said.
Ministry of Education and Training has signed an agreement with the Russian Nuclear Power Group on human resource training for Vietnam's nuclear power sector, he said.
Under the agreement, Russian nuclear engineers will train about 40 Electricity of Vietnam Group staff members this year, he said, adding that the Ministry of Science and Technology will also arrange for training some of its staff members.
"Many preparations are being made so that the construction of the Ninh Thuan 1 nuclear power plant will start in 2014 and the first turbine will be put into operation in 2020," Mr. Tan said.